Water-based mold release agent with excellent secondary workability performance
Technical Classification:

[ Molding ] [ Processing ] [ Joining ] [ Painting ]

Products:

[ Products / Processed Products ]

Keyword:

[ CFRP ] [ mold release agent ] [ molding ] [ water-based ]
Point of the Proposed Technology
1) Excellent mold release performance comparable to a cured-film mold release agent.
2) Low residues lead to little mold cloudiness and enable tp extend mold cleaning cycle.
3) Cure processing of mold releasing films at tool prep process is not neccessary , and easy to start molding by applying release agent to the mold by spray or wiping.
4) Significant time reduction is possible in pre treatment process before painting or bonding process due to less transcription to a molded product.
5) Work environment improvement is realized by a mold release agent of the environment-compatible type having significantly small amounts of VOC constituents and being excellent in atmospheric environment preservation.

Effect(s)
Average reduction of 70% or more of the time spent for curing mold releasing film at the tool-prep process in comparison with conventional products.
Reduction of 50% or more of the time at the pretreatment process before painting and bonding in comparison with a conventional cured-film mold release agent
Extension of the mold cleaning cycle

Conventional Technology
New Technology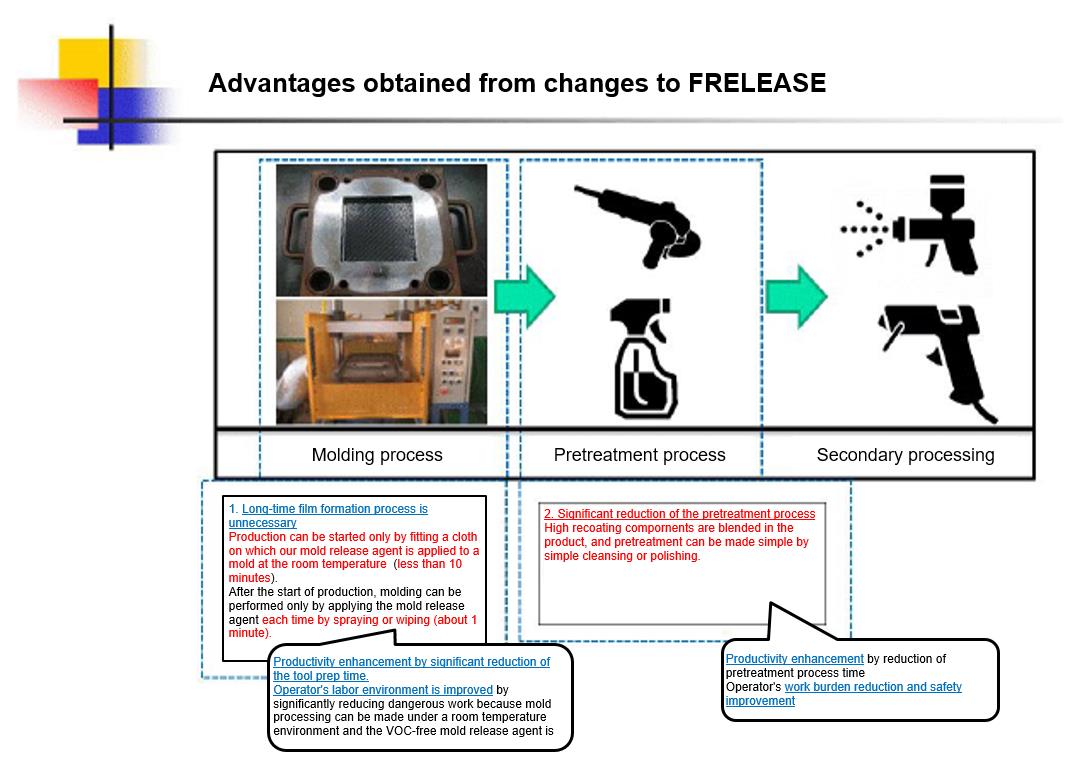 Technology Deployment and Cooperation
Development Stage

Commercialization Completed (already delivered: yes)


Joint Researchers (their role)

Example of Application

The automotive sector, the aviation (interior finishing) sector


Technical Problems

Quantification and data base compilation of the secondary processing effect


Collaborator needed to Improve

Paint manufacturers, adhesive manufacturers, intermediate base-material manufacturers


Technical WEB page
Inquiries
Personnel / Department

Chemical Business Management Dept, Business Planning Sect. / Specialty Chemicals Marketing Expert, Yuta Izaki

Address

Kobekanden Bldg. 6-2-1 Kano-cho, Chuo-ku, Kobe-shi, Hyogo, 650-0001 Japan

Contact

TEL:+81-78-331-9382
FAX:+81-78-331-9319
Inquiry Form
Outline of Company and Organization
Location

Kobekanden Bldg. 6-2-1 Kano-cho, Chuo-ku, Kobe-shi, Hyogo, 650-0001 Japan

Contact

TEL:+81-78-331-9381
FAX:+81-78-331-9318


Capital / No. of Employees

409,750,000 yen / 298 employees (as of October 2019)

Product Line

Fluorine-based surfactant, fluorine-based mold release agents, cutting and grinding agents, cleaning agents, paint removers, rust-preventive agents, dispersants for oil spill, etc.

Major Customers

Overseas Base(s)

China (Shanghai, Guangzhou, Liyang), Singapore, Thailand (Bangkok)

Certification

ISO9001, ISO14001

Company/Organization WEB page
---