TFP molding method allows any desired fiber orientation, high yield rate, reduction of molding time and mass production.
Technical Classification:

[ Molding ]

Products:

[ Equipment / Facilities ]

Keyword:

[ CFRP ] [ CFRTP ] [ laminate shaping method ] [ near net shape molding ] [ Preform ]
Point of the Proposed Technology
・Molding of preform (intermediate base material) by automatic machine instead of molding by the conventional manual work
・Reinforced fibers can be orientated in any direction of 360°.
・Fibers can be locally orientated.

Effect(s)
Conventional Technology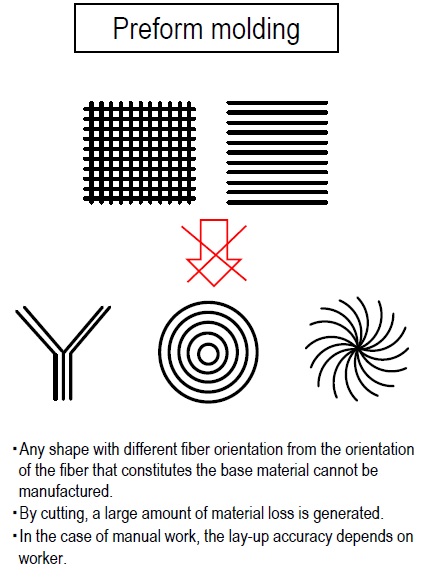 New Technology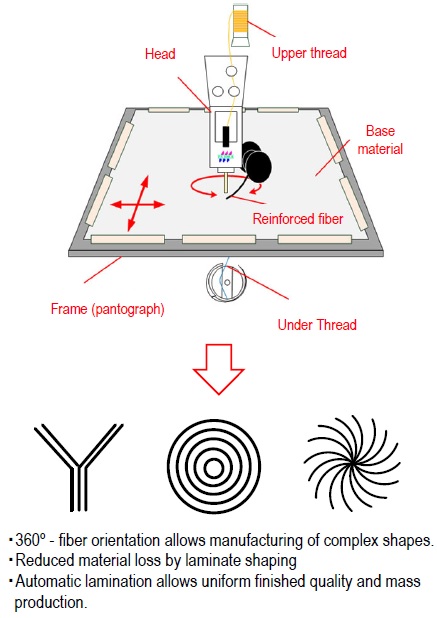 Technology Deployment and Cooperation
Development Stage

Commercialization Completed (already delivered: yes)


Intellectual Property Right

Yes

Joint Researchers (their role)

The company's own technology


Example of Application

・Structural parts for airplanes
・Structural parts for automobiles
・Other general goods (sports, industrial machines)


Technical Problems

・Design elements specialized for anisotropic material is needed.
・The maximum processing area is 2000 mm x 1000 mm, at present.


Collaborator needed to Improve

・Companies and institutions having the design technologies specialized for anisotropic material
・Companies and institutions having the topology optimization theory specialized for anisotropic material


Technical WEB page
Inquiries
Personnel / Department

Advanced Technology Development Division / Assistant Manager, Kae Kimpara

Address

1800 Ushiyama-cho, Kasugai-shi, Aichi, 486-0901 Japan

Contact

TEL:+81-568-33-1057
FAX:+81-568-33-1164
Inquiry Form
Outline of Company and Organization
Location

1800 Ushiyama-cho, Kasugai-shi, Aichi, 486-0901 Japan

Contact

TEL:+81-568-33-1057
FAX:+81-568-33-1164


Capital / No. of Employees

90,000,000 yen / 246 employees

Product Line

Industrial embroidery machines, composite molding machines

Major Customers

Overseas Base(s)

USA, France, China

Certification

Company/Organization WEB page
---