Heating of a CFRTP sheet using a high-response IR heater
Technical Classification:

[ Molding ]

Products:

[ Equipment / Facilities ]

Keyword:
Point of the Proposed Technology
1. Domestically produced heater and temperature control system developed by our company for heating thermoplastic resin sheets
2. In addition to the overheating control of the sheet, temperature difference suppression of the thickness direction of the sheet is possible.
3. Adjustment of sheet temperature distribution by output adjustment for each heater

Effect(s)
1. Quality improvement
2. Moldability improvement
3. Cycle shortening

Conventional Technology
To shorten the heating time, usually set temperature of the heater higher. For example, during the use of high temperature heater, the surface of the sheet rises to the desired temperature quickly, but the inside of the sheet will still be under-heated, just like a half-raw cooked food. If you wait until the temperature of both the sheet and the inside are heated, the surface of the sheet will be damaged by overheating, just like a burnt food.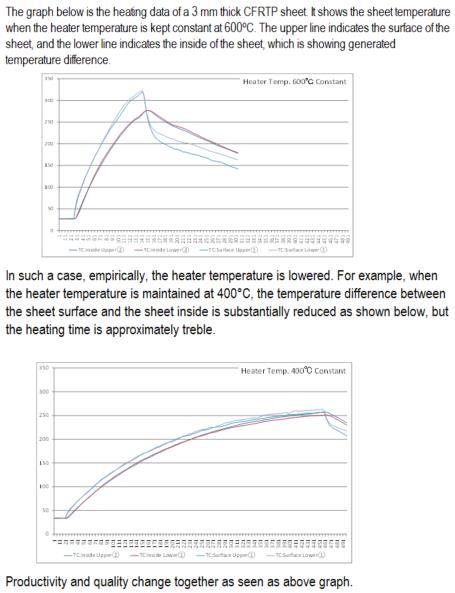 New Technology
Although the thermoplastic resin is used for the CFRTP sheet, it is necessary to understand that the infrared ray absorption characteristic is quite different from ordinary thermoplastic resin. The Quick Response Heater System that our company developed has the following features.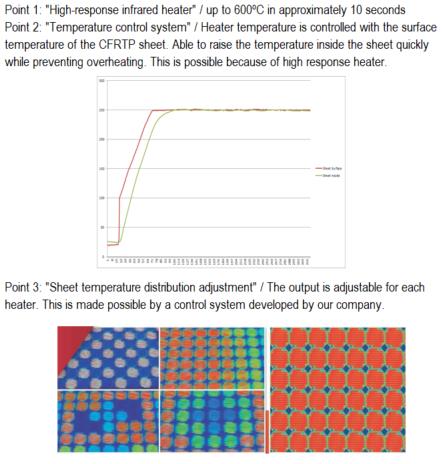 Technology Deployment and Cooperation
Development Stage

Commercialization Completed (already delivered: yes)


Intellectual Property Right

Yes

Joint Researchers (their role)

Example of Application

Preliminary heating of the Carbon Fiber Reinforced Thermoplastics (CFRTP)


Technical Problems

・Aiming at shortening of the preliminary heating time
・Fully automating the overheating suppression and control


Collaborator needed to Improve

Molding machine manufacturers, engineering companies


Technical WEB page
Inquiries
Personnel / Department

Project Planning & Development Dept. / Deputy director, Hideki Usami

Address

158 Kitayama, Morowa, Aichi-gun Togo-cho, Aichi, 470-0151, Japan

Contact

TEL:+81-561-38-6827
FAX:+81-561-38-1218
Inquiry Form
Outline of Company and Organization
Location

158 Kitayama, Morowa, Aichi-gun Togo-cho, Aichi, 470-0151 Japan

Contact

TEL:+81-561-38-1211
FAX:+81-561-38-1218


Capital / No. of Employees

546,850,000 yen / 112 employees

Product Line

Compressed air/vacuum molding machines and related equipment

Major Customers

Daiichi Jitsugyo Co., Ltd.

Overseas Base(s)

None

Certification

None

Company/Organization WEB page
---