Reduction in the manufacturing cost and improvement of three-dimensional moldability by using the textile base material of the composite yarn of carbon fiber and resin reduces
Technical Classification:

Products:

[ Products / Processed Products ]

Keyword:

[ CFRTP ] [ composite yarn ] [ textile base material ]
Point of the Proposed Technology
・CFRTP part can be molded directly from the textile base material, and no manufacturing process of CFRTP prepreg is required.
・It can be woven by a general-purpose weaving machine, and it can apply to various weaving conditions corresponding to needs at low cost.
・Since the textile base material has a plasticity, it easily follows to the molding die and can be used for a complicated three-dimensional molding.

Effect(s)
・15% reduction of material cost
・Good three-dimensional moldability

Conventional Technology
◇Conventional CFRTP parts manufacturing process
・Two hot press processes, in prepreg manufacturing and parts manufacturing, are required.
・Since prepreg is a plate material, it is difficult to mold into a complicated three-dimensional form.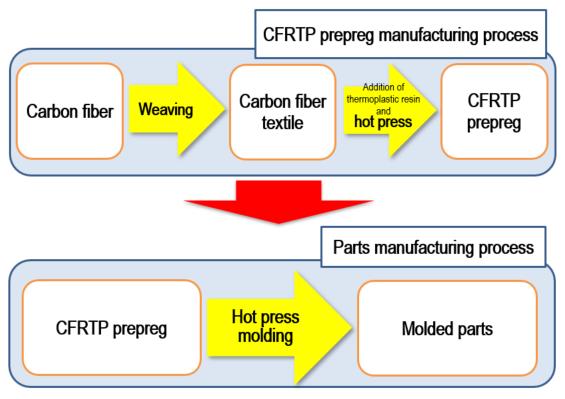 New Technology
◇CFRTP parts manufacturing process for the developed product
・The textile base material can be manufactured by a general-purpose weaving machine. (Cost reduction)
・ It is woven and has a plasticity, providing a good three- dimensional moldability.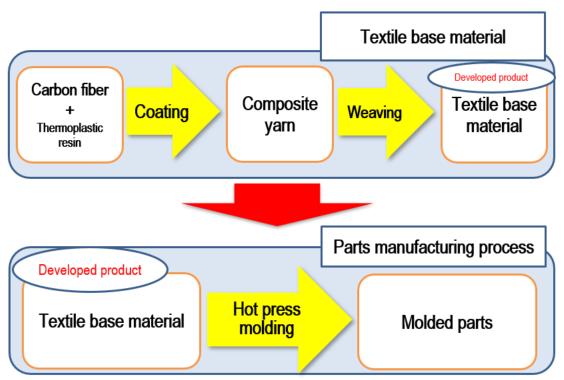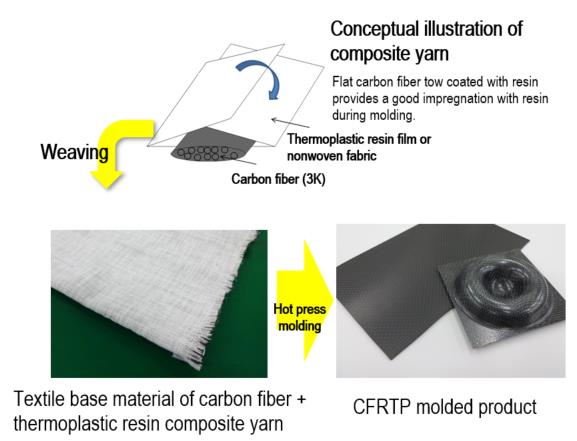 Technology Deployment and Cooperation
Development Stage

Prototyping / experimental Stage (to be completed in 2020/3; progress: 70%)


Intellectual Property Right

None

Joint Researchers (their role)

Aichi Center for Industry and Science Technology
・Owari Textile Research Center (study of the manufacturing conditions for composite yarn)
・Mikawa Textile Research Center (study of the weaving conditions of textile)


Example of Application

・Parts for automobiles and aircrafts
・Enclosures for OA equipment and medical devices


Technical Problems

・Optimization of composite yarn manufacturing conditions (proportion of fiber and resin, etc.)
・It is molded directly from textile (raw material), and therefore, a high molding pressure (about 20 MPa) is needed to impregnate carbon fiber with resin.
・Sale as a material (textile base material) has been under consideration.


Collaborator needed to Improve

・Processing manufacturers having expertise in CFRTP three-dimensional molding
・Institutions including universities having CFRTP performance assessment technologies/equipment


Technical WEB page
Inquiries
Personnel / Department

Research and Technology Development Division / Takuya Kojima

Address

22-4, Higashinamikikita, Yama-machi, Chiryu-City, 472-0006, Japan

Contact

TEL:+81-566-83-2121
Inquiry Form
Outline of Company and Organization
Location

9-29, Kamimaezu 2-chome, Naka-ku, Nagoya-City 460-8330 Japan

Contact

TEL:+81-52-331-5451
FAX:+81-52-332-4321


Capital / No. of Employees

100,000,000 yen / 497 employees

Product Line

Automobile-related parts (development/manufacturing/selling)

Major Customers

Toyota Motor Corporation, etc.

Overseas Base(s)

China, Southeast Asia, US, Canada, Czech

Certification

ISO14001、ISO9001

Company/Organization WEB page
---