Development of CFRTP material by a high shear processing method which enables to produce high strength, high modulus and lightweight parts
Technical Classification:

[ Molding ]

Products:

[ Products / Processed Products ]

Keyword:

[ carbon fiber ] [ CFRTP ] [ composite material ] [ high modulus ] [ high shear processing ] [ high strength ] [ injection molding ] [ Light weight ] [ pellet ] [ short fiber ]
Point of the Proposed Technology
・Injection molded parts which use commercially available CFRTP pellets are not able to exhibit sufficient mechanical performance because the carbon fibers are aggregated and oriented.
・With the developed high shear processing method, agglomeration of carbon fibers were released, and uniform and isotropic dispersion became possible in the base polymer.
・In addition, we succeeded in further improving the strength and modulus by adding highly dispersing nanofillers.

Effect(s)
・Just by re-kneading the commercial products with high shear processing we managed to, improve strength up to:a maximum of 1.3 times, and improve the elastic modulus up to:a maximum of 1.4 times.
・Furthermore, when the nanofiller is additionally added and highly dispersed, the elastic modulus is doubled as compared with the commercial product.

Conventional Technology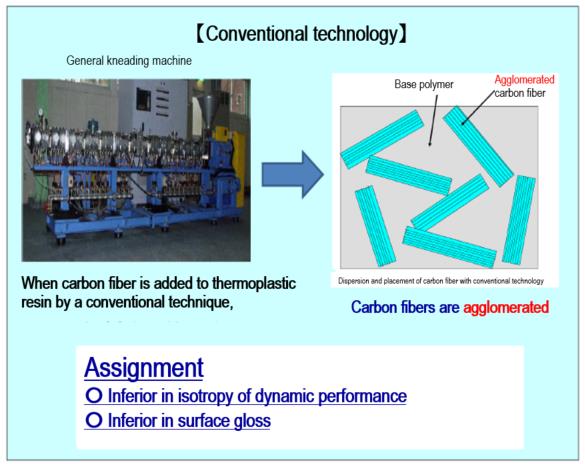 New Technology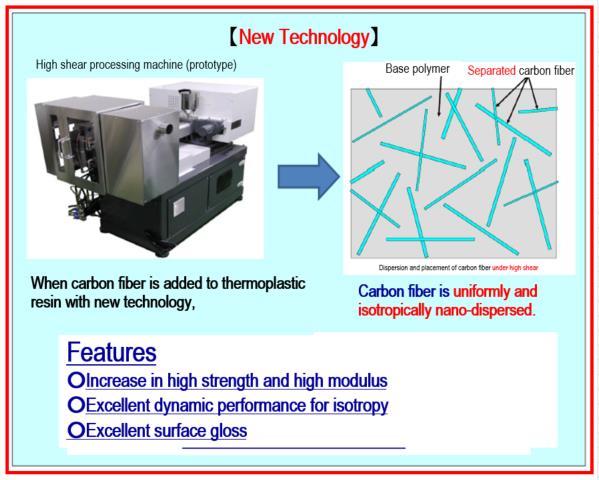 Technology Deployment and Cooperation
Development Stage

Development Stage (to be completed in 0/0; progress: 0%)


Intellectual Property Right

Yes

Joint Researchers (their role)

Example of Application

・Parts requiring light weight, high strength and high modulus in automotive and industrial equipment fields
(such as a substitution for aluminum die cast parts )


Technical Problems

・We pelletize the high shear processed CFRTP and deliver to part manufacturing companies.
・As a technical issue, it is important to evaluate the durability of produced CFRTPs at the development stage.


Collaborator needed to Improve

・A compounder which is able to entrust CFRTP pellet production by the high shear processing method
・An injection molding manufacturer that produces parts using CFRTP pellets by the high shear processing method
・A manufacturer that produces automobile parts or robot parts using CFRTP pellets by the high shear processing method


Technical WEB page
Inquiries
Personnel / Department

/ CEO, Hoiroshi Shimizu (Ph.D)

Address

Tskuba So-gyou Plaza 103, 2-1-6 Sengen, Tsukuba, Ibaraki, 305-0047, JAPAN

Contact

TEL:+81-29-846-2511
FAX:+81-29-846-2511
Inquiry Form
Outline of Company and Organization
Location

Tskuba So-gyou Plaza 103, 2-1-6 Sengen, Tsukuba, Ibaraki, 305-0047, JAPAN

Contact

TEL:+81-29-846-2511
FAX:+81-29-846-2511


Capital / No. of Employees

6,600,000 yen / 5 employees

Product Line

CFRTP, alloy for transparent panel, stretchable electrode material, nanoparticle dispersion master batch etc.

Major Customers

Overseas Base(s)

None

Certification

Company/Organization WEB page
---