Resin is increasingly adopted for aircraft and luxury cars for the purpose of the weight reduction of conventional metal structural parts.
Thermosetting resin composite materials are inferior in productivity and are limited to be applicable to small production parts.
Our company has established a molding technology for thermoplastic resin composite material with excellent productivity and realized stable high-speed molding in order to overcome this issue.

Problems of the conventional construction method in structural component manufacturing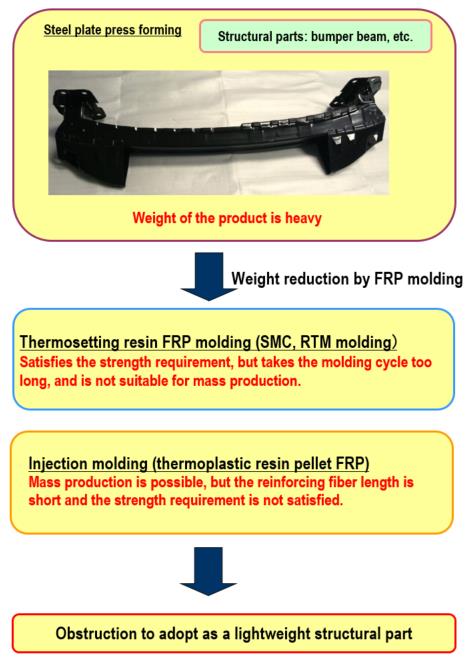 Development of high-speed stamping molding method for thermoplastic resin composite material
・Mass production is possible with the same molding cycle as injection molding.
・Product strength is secured with a combination of continuous textile reinforcing fibers.
・High precision molding is realized by a fully automated manufacturing process.
・Degree of freedom of shape in product design is high, such as gradually changing the thickness of the product, rib settings, etc.
・The use of thermoplastic resin allows product recycling.