Mechanical/hydraulic hybrid two-sided CFRTP molding machine
Technical Classification:

[ Molding ]

Products:

[ Equipment / Facilities ]

Keyword:

[ 2-sided ] [ high-speed ] [ holding ] [ molding ] [ opening/closing ] [ Press ] [ pressure ] [ Thermoplastic ]
Point of the Proposed Technology
Including two pressure plate surfaces, each of which can be set to different temperatures and different pressures (420ºC Max)
The holding pressure and position can be controlled by mechanical servomechanism, while realizing high-speed mold opening and closing and bottom dead center accuracy. And also no restriction on pressurization holding time
Suitable eccentric load and minimum machine height due to underdrive mechanism

Effect(s)
Capable to correspond with various construction methods using CFRTP material which will draw attention in the future

Conventional Technology
Machine presses that are good at high-speed mass production are not suitable for resin molding because of the weak pressure holding control.
However, for a hydraulic press suitable for holding pressure,
 ・It is inevitable to increase the scale of the equipment in order to increase the speed.
 ・A special mechanism is required to maintain the parallelism against eccentric load.
 ・Maintenance is difficult due to the need of a large amount of oil.
 As stated above, there are many disadvantages in constructing high-speed mass production systems.

New Technology
We propose a press equipment combining mechanical and hydraulic advantages.
・Realizes high-speed mold opening and closing, high bottom dead center accuracy and reproducibility by mechanical servomechanism,
・Hydraulic servo mechanism enables holding pressure control and position control. And no retention time limit.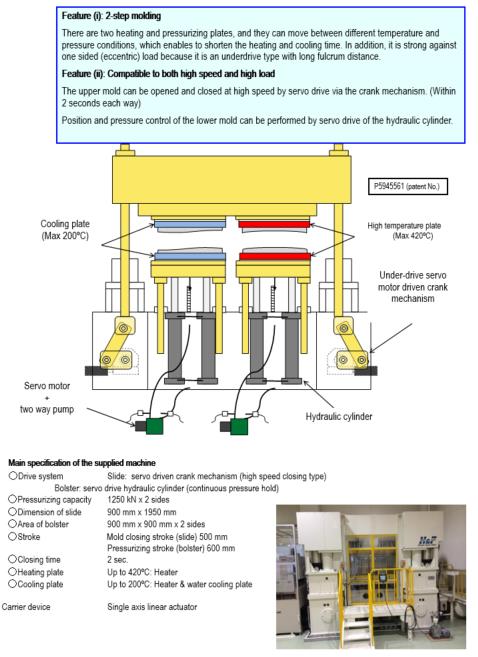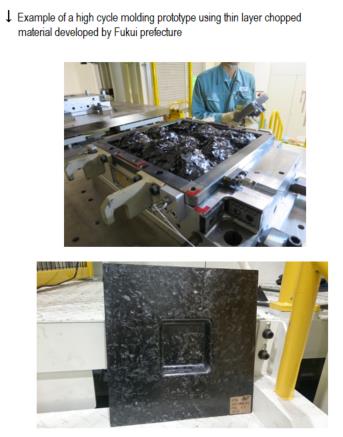 Technology Deployment and Cooperation
Development Stage

Commercialization Completed (already delivered: yes)


Intellectual Property Right

Yes

Joint Researchers (their role)

Industrial Technology Center of Fukui Prefecture


Example of Application

Weight reduction for car body parts


Technical Problems

Develop a high productivity CFRP production equipment utilizing large machine press manufacturing and high speed automatic transfer technology, and aim to enter the automotive CFRP press production equipment field.


Collaborator needed to Improve

CFRP press die manufacturers, CFRP material manufacturers, and CFRTP product manufacturers (facility users) who are considering equipment for development and mass production


Technical WEB page
Inquiries
Personnel / Department

Technical Headquarters Technical Development Section / Kenji Nishida

Address

8-28, Jiyugaoka 1-chome, Awara-city, Fukui-pref., 919-0695, Japan

Contact

TEL:+81-776-73-1250
Inquiry Form
Outline of Company and Organization
Location

8-28, Jiyugaoka 1-chome, Awara-city, Fukui-pref., 919-0695, Japan

Contact

TEL:+81-776-73-1220
FAX:+81-776-73-3055


Capital / No. of Employees

1,055,000,000 yen / 402 employees

Product Line

Sheet metal press machine and peripheral automation equipment

Major Customers

Domestic and overseas automobile and auto parts manufacturers

Overseas Base(s)

USA, UK, Malaysia, Thailand, China, India, Indonesia, Mexico

Certification

ISO 9001,14001

Company/Organization WEB page
---