Manufacturing technology of CFRTP using fabric as base material
Technical Classification:

Products:

Keyword:

[ CFRTP ] [ fabric ] [ press molding ]
Point of the Proposed Technology
By covering carbon fibers, a general-purpose weaving machine can be used for weaving into fabric.
By weaving into fabric, a small number of laminations can provide a high degree of isotropy.
Injection of bonding resin is not required. Fabric can be easily formed in a short time only by hot-press.

Effect(s)
Increase in productivity of CFRTP
High-functionality CFRTP can be manufactured.

Conventional Technology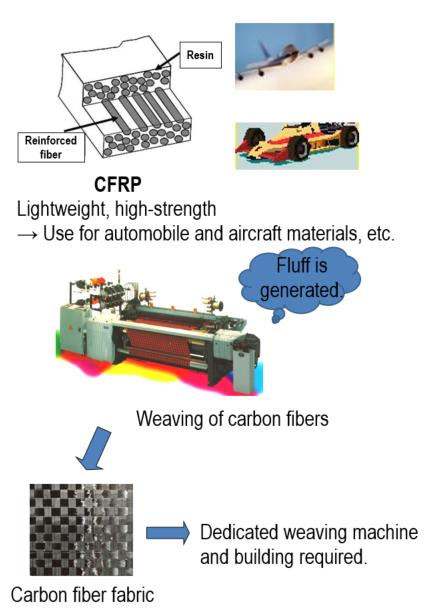 New Technology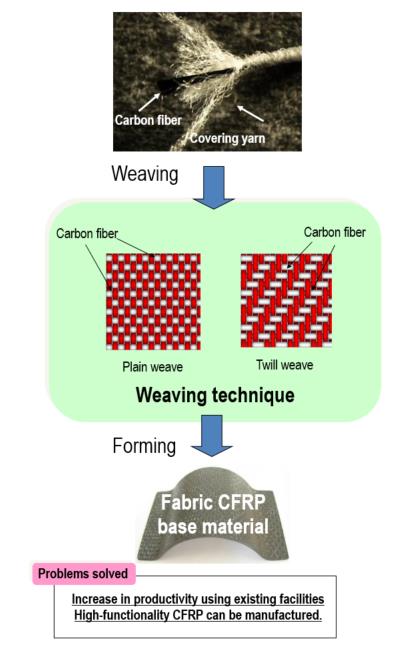 Technology Deployment and Cooperation
Development Stage

Prototyping / experimental Stage (to be completed in 0/0; progress: 0%)


Intellectual Property Right

None

Joint Researchers (their role)

Tsuchiya Co., Ltd. (press forming, assessment)


Example of Application

CFRTP products for lightweight and high-strength members


Technical Problems

Less strength compared to cloth material made of raw yarn


Collaborator needed to Improve

Companies being interested in commercialization of this technology


Technical WEB page
Inquiries
Personnel / Department

Industrial Materials Development Group / Etsushi Cyatani

Address

109 Igakubo, Otsuka-cho, Gamagori-shi, Aichi, 443-0013, Japan

Contact

TEL:+81-533-59-7146
FAX:+81-533-59-7176
Inquiry Form
Outline of Company and Organization
Location

109 Igakubo, Otsuka-cho, Gamagori-shi, Aichi, 443-0013, Japan

Contact

TEL:+81-533-59-7146
FAX:+81-533-59-7176


Capital / No. of Employees

0 yen /

Product Line

Major Customers

Overseas Base(s)

Certification

Company/Organization WEB page
---