Development of lightweight mold with release function used for CFRP curing
Technical Classification:

[ Molding ]

Products:

[ Service ]

Keyword:

[ CFRP ] [ cowl plate ] [ mold release agent ] [ molding die ]
Point of the Proposed Technology
・The process of curing the composite material is shortened, and the working time can be reduced.
・Troubles during demolding are reduced, mold cleaning time can be shortened, and quality is stabilized.
・A dedicated area and a ventilator for applying release agent using organic solvent become unnecessary, the working environment is improved, and plant facilities and areas can be effectively utilized at the same time.
By weight reduction of the mold, transportation becomes easier.

Effect(s)
・Compared to conventional lamination, 20% operation time was reduced.
・Releasing material application area and application time were required
→ No application area isrequired, zero application time

Conventional Technology
It is necessary to apply a releasing agent to the mold used for curing thermosetting CFRP using an epoxy resin or the like in advance. Many of these releasing agents use organic solvents. This task has the following challenges.
 ・The release agent application step and the prepreg lamination step are regulated by Boeing which can not share the work area, and a dedicated release agent application area is required.
 ・Using organic solvents requires attention to workers' health.
  According to the provisions of the Industrial Safety and Health Act, protective equipment is required.
 ・The release agent shall be applied twice and it takes about 1 hour to dry after application.
  It is a bottleneck process due to the waiting time.
 ・The mold is heavy, and takes time to transport.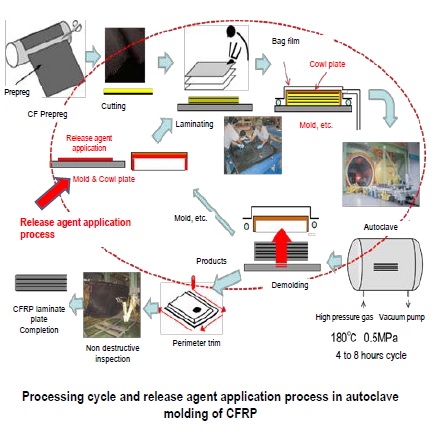 New Technology
We succeeded in eliminating the necessity of application of release agent by providing a release material layer such as PTFE that can be repeatedly used on the surface of the mold and cowl plate used for molding composite materials. The shape can be flat or curved.
It can be applied to materials for special surfaces such as a porous surface, not to speak of metal, as a mold with which a release layer can be constructed on the surface... and CFPR itself can be used as a cowl plate. By applying this release film to a lightweight special base material, weight reduction of a mold and easy transportation become possible, which helps workers avoid backaches.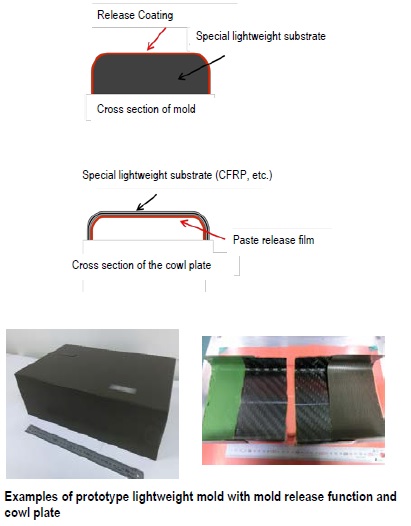 Technology Deployment and Cooperation
Development Stage

Development Stage (to be completed in 2018/3; progress: 80%)


Intellectual Property Right

Yes

Joint Researchers (their role)

Yashima Corporation (Manufacture and sale of composite molds)
Yoshida SKT Co, Ltd., (Implementation of release coating)
Toyo Tanso Co., Ltd. (Provide lightweight fixture materials)


Example of Application

Curing processing of CFRP parts for aircraft, molds for composite materials in general


Technical Problems

・It is necessary to confirm the durability of the release film, and the durability test is currently ongoing. The lifetime has been confirmed to be from 50 to 100 times longer.
・In the future, we plan to develop into the aircraft industry and the automobile industry.


Collaborator needed to Improve

・Composite material parts manufacturer, aerospace equipment / automobile manufacturer
・Mold manufacturers, etc.


Technical WEB page
Inquiries
Personnel / Department

/ President, Hitoshi Fukagawa

Address

8-21 Heiwa-dori, Seki-shi, Gifu, 501-3874 Japan

Contact

TEL:+81-575-24-2046
Inquiry Form
Outline of Company and Organization
Location

8-21 Heiwa-dori, Seki-shi, Gifu, 501-3874 Japan

Contact

TEL:+81-575-24-2046


Capital / No. of Employees

1,000,000 yen /

Product Line

Major Customers

Overseas Base(s)

Certification

Company/Organization WEB page
---