A new thermoplastic carbon fiber tow tip
Technical Classification:

Products:

[ Products / Processed Products ]

Keyword:
Point of the Proposed Technology
The thermoplastic resin to be used is a reactive thermoplastic epoxy resin. The original yarn (tow) of carbon fiber is directlyimpregnated with thermoplastic epoxy resin, and after being cured, it is cut into approx. 10 to 50 mm pieces (tips), and then theyare randomly oriented in a 3D manner to form a thick plate. Since this product is strong against compression, highly rigid,lightweight and resistant to rust, its use as a substitute for steel in fields such as civil engineering is expected.

Effect(s)
Workability improvement, weight-savingof the whole work, cost reductionthrough elimination of heavy machinery,long lifecycle

Conventional Technology
Application to an anchor plate (substitute for steel material) with the new thermoplastic carbon fiber tow tip
New Technology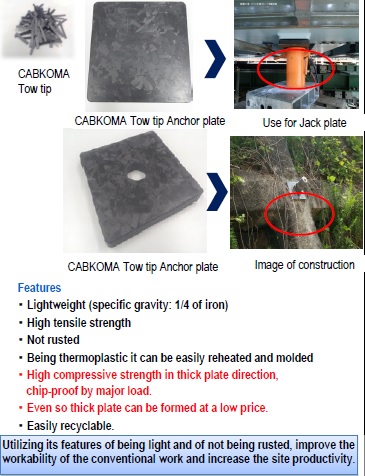 Technology Deployment and Cooperation
Development Stage

Commercialization Completed (already delivered: yes)


Intellectual Property Right

Yes

Joint Researchers (their role)

Kanazawa Institute of Technology: structural design of a thick plate, development of a metal die
Industrial Research Institute of Ishikawa: technical guidance on property measurement, etc.
Taniguchi Seityu K.K.: carbon fiber tow tip resin impregnation, tipping
KOMATSU MATERE Co.,Ltd.: pressed molding production, sales


Example of Application

Anchor plate for ground anchor, Jack plate, Spacer under the heavy load, etc.


Technical Problems

Since it is a high-rigidity thermoplastic carbon fiber thick plate that is lightweight, will not be rusted and canprovide a high Vf value, its use as a substitute for steel material (iron sheet) is expected.


Collaborator needed to Improve

Construction and civil engineering industry


Technical WEB page
Inquiries
Personnel / Department

Sales Section for Advanced Materials, Tokyo Base / Atsushi Yamatake

Address

2-2-22 HERBIS ENT Office Tower 8th floor, Umeda, Kita-ward Osaka-city, Osaka, 530-0001 Japan

Contact

TEL:+81-6-6344-4161
FAX:+81-6-6344-4160
Inquiry Form
Outline of Company and Organization
Location

Nu 167 Hama-machi, Nomi-shi, Ishikawa, 929-0124 Japan

Contact

TEL:+81-761-55-1111
FAX:+81-761-55-8090


Capital / No. of Employees

4,680,420,000 yen / 1289 employees

Product Line

Fiber business (clothing/materials), greenbiz, etc.

Major Customers

Overseas Base(s)

Has overseas bases

Certification

Company/Organization WEB page
---