Fastening and joining device for thermoplastic CFRP rivet using the servo press unit
Technical Classification:

[ Joining ]

Products:

[ Equipment / Facilities ]

Keyword:

[ CFRTP ] [ joining technology ] [ rivet ] [ Servo press ]
Point of the Proposed Technology
・Base materials and part of the joint face of base materials are fastened with a thermoplastic CFRP rivet for secure joining.
・Since thermoplastic CFRP is hardly used as a fastening material, our technology is expected to bring great novelty.
・Electric servo press (manufactured by our company) is used as a fastening device for determination of load, position control and evaluation of fastening.

Effect(s)
(i) High strength: Shearing stress of 190 MPa or higher  
(ii) Simple joining technology for dissimilar materials

New Technology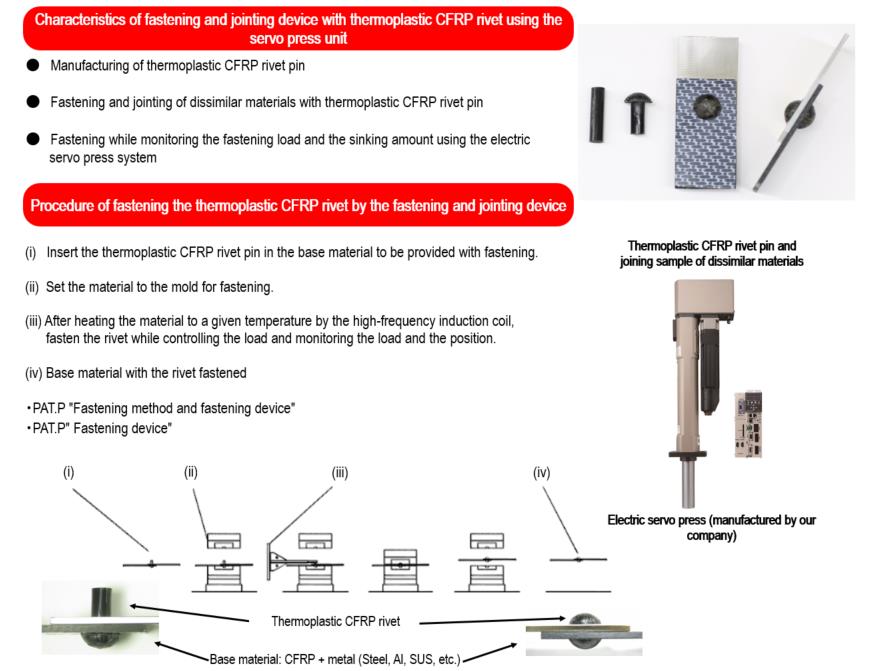 Technology Deployment and Cooperation
Development Stage

Development Stage (to be completed in 2016/12; progress: 0%)


Intellectual Property Right

Applying

Joint Researchers (their role)

Kindai University (Role: technical guidance, assessment)
National Institute of Technology, Wakayama College (Role: assessment, analysis)


Example of Application

This technology aims to practical as the dissimilar materials joining technology in the automotive, aerospace, process industry fields.


Technical Problems

Business plan: Proposal to companies which have been working on the development of products using joining of dissimilar materials


Collaborator needed to Improve

Automotive, aerospace products, devices, materials manufacturers


Technical WEB page
Inquiries
Personnel / Department

Product development, Kani Plant / Takeshi Eguchi

Address

690-1 Oomori, Kani-city, Gifu, 509-0238 Japan

Contact

TEL:+81-574-62-8784
Inquiry Form
Outline of Company and Organization
Location

1-54-1 Shimoishihara, Chofu City, Tokyo, 182-0034 Japan

Contact

TEL:+81-42-440-1465
FAX:+81-42-440-1436


Capital / No. of Employees

100,000,000 yen / 120 employees

Product Line

Servo nutrunner, servo press, hand-held nutrunner

Major Customers

Automotive manufacturers, auto parts manufacturers

Overseas Base(s)

China, Korea, USA, India, etc.

Certification

ISO9001 (Nutrunner, Hand-held Nutrunner, Servo Press. Relevant Business Office: Sales Headquarters)

Company/Organization WEB page
---