In-situ polymerization thermoplastic prepreg
Technical Classification:

Products:

[ Products / Processed Products ]

Keyword:
Point of the Proposed Technology
By using in-situ polymerization thermoplastic resin, a prepreg for thermoplastic carbon fiber composite having a good tackiness and adrapability equivalent to a general-purpose thermoset prepreg can be produced. Therefore, the conventional equipment for thermoset prepregcan be used as it is. Also, since a molded product is thermoplastic, it can be secondarily processed by heating and also press forming.Furthermore, it has a strength/rigidity equivalent to that of thermoset carbon fiber composite. This improved prepreg has higher workability andbetter physical properties than that of conventional thermoplastic prepregs.

Effect(s)
・Equipment for thermoset prepreg can be used.
・Allowing mass production by press
・Molded product can be finely adjusted (customized).

Conventional Technology
There is a problem that prepregs using common thermoplastic resin have notackiness and drapability and show poor lamination workability and metalmolding performance. In addition, there has been a challenge that moldedproducts have low physical properties because the impregnation performanceinto resin is low and the adhesive property at the interface with carbon fibersis also low.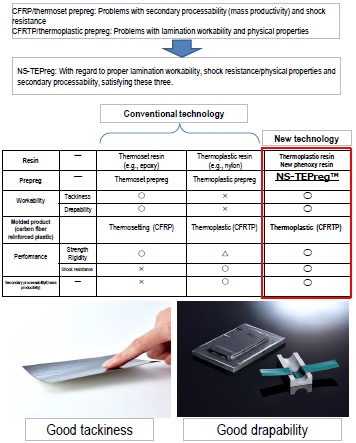 New Technology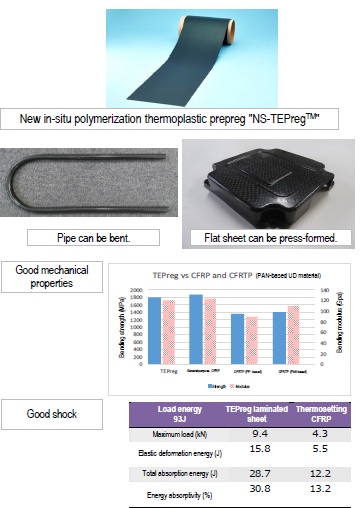 Technology Deployment and Cooperation
Development Stage

Commercialization Completed (already delivered: yes)


Intellectual Property Right

Yes

Joint Researchers (their role)

Not published


Example of Application

Various sports goods, protector, enclosure, artificial limb, wheel chair and bicycle frames,automobile parts, stationery, parts for radio-controller and drone, etc.


Technical Problems

・Planned to be sold in a wide variety of forms, e.g., selling in the forms of prepreg and plate material, ourcompany's selling molded products, and so on.


Collaborator needed to Improve

・Sports/outdoor goods makers, electronic equipment makers, welfare/medical apparatus makers,automobile makers, hobby goods makers, etc.


Technical WEB page
Inquiries
Personnel / Department

Carbon fiber composite, pitch-based carbon fiber, semiconductor electronic industrial member,metal carrier / Group Leader, Kazuya Eto

Address

13-1 Nihonbashi 1-chome, Chuo-ku, Tokyo, 103-0027 Japan

Contact

TEL:+81-3-3510-0343
FAX:+81-3-3510-1196
Inquiry Form
Outline of Company and Organization
Location

13-1 Nihonbashi 1-chome, Chuo-ku, Tokyo, 103-0027 Japan

Contact

TEL:+81-3-3510-0343
FAX:+81-3-3510-1196


Capital / No. of Employees

5,000,000,000 yen / 3,200 employees (consolidated)

Product Line

Carbon fiber composite, pitch-based carbon fiber, semiconductor electronic industrial member, metal carrier

Major Customers

Overseas Base(s)

Thailand, India, Indonesia, Philippines, Malaysia

Certification

ISO9001 (composite company)

Company/Organization WEB page
---