Carbon Fiber Composite Materials for Mold Injection Using Environment-Friendly Recycled Carbon Fibers
Technical Classification:

[ Intermediate Products ] [ Recycling ]

Products:

[ Products / Processed Products ]

Keyword:
Point of the Proposed Technology
It became possible to evenly knead recycled carbon fibers into resin by optimizing defibration, cutting, and dispersion of fibers in a kneading process.
  [1] Contribution to realizing light weight: Light weight with the specific gravity of about 1.5 (the PPS series) compared with that of iron (7.9) and that of aluminum (2.7). It is possible to introduce thin walls, small size and light weight into existing resin components by achieving high strength.
  [2] Environment friendliness: Carbon fibers are reused by actively using recycled carbon fibers.
  [3] Cost friendliness: Recycled carbon fibers are adopted by the pyrolysis method having advantage in terms of manufacturing costs.
  [4] Responding to ordinary mold injection: Recycled carbon fibers are evenly dispersed based on thermoplastic resin. Ordinary mold injection can be applied. In addition, thermosetting resin base is under development.

Effect(s)
◆ Sliding: Wear resistance and attacking capability against the material to be slid of GFRP components with added glass fibers were significantly improved. → Realization of prolongation of the life of resin components.
◆ Stiffness: Stiffness (elastic modulus) of GFRP components was significantly improved. →Realization of small size and thin walls in resin components.
◆ Light weight: Stiffness (elastic modulus) between that of GFRP and that of aluminum → Realization of light weight by replacing with resins in aluminum chassis components

Conventional Technology
For CFRP using short fibers, their components with complicated forms can bemass-produced by mold injection, but they are not widely used as virgincarbon fibers (CF) are expensive.
In addition, there is a concern that environmental burdens will increase in thefuture due to disposal of CFRP.

New Technology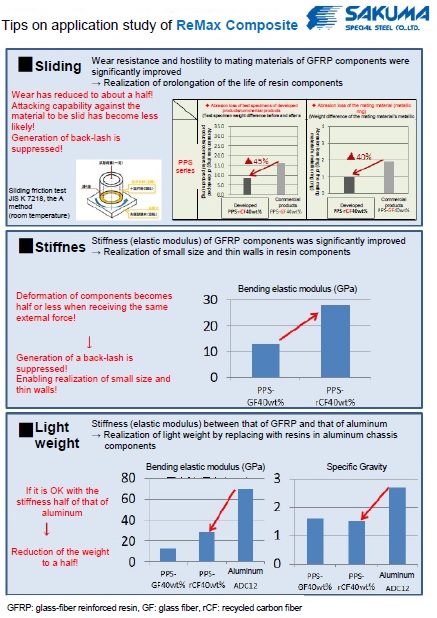 Technology Deployment and Cooperation
Development Stage

Prototyping / experimental Stage (to be completed in 2020/12; progress: 70%)


Intellectual Property Right

Applying

Joint Researchers (their role)

Sanyo Kako Co., Ltd. (role: test production by kneading)


Example of Application

Components where wear resistance, stiffness or light weight is required in the fields of automobiles andindustrial equipment (GFRP components with added glass fibers, aluminum die-cast replacement, etc.)


Technical Problems

Durability assessment of developed CFRTP


Collaborator needed to Improve

Mold injection manufacturers producing components using CFRTP pellets


Technical WEB page
Inquiries
Personnel / Department

Technical Service / Group General Manager, Toshiaki Terada

Address

5-250 Urasato, Midori-ku, Nagoya-shi, Aichi, 458-8510 Japan

Contact

TEL:+81-52-623-5553
FAX:+81-52-623-5558
Inquiry Form
Outline of Company and Organization
Location

5-250 Urasato, Midori-ku, Nagoya-shi, Aichi, 458-8510 Japan

Contact

TEL:+81-52-623-5551
FAX:+81-52-623-5558


Capital / No. of Employees

360,000,000 yen / 167employees

Product Line

Sales/supply of special steel materials, high alloy materials, next-generation materials, and processed components

Major Customers

Overseas Base(s)

Thailand, China, Indonesia, USA

Certification

Company/Organization WEB page
---