Materials for large structures for cost saving
Technical Classification:

[ Molding ]

Products:

[ Products / Processed Products ]

Keyword:

[ Draw molding ] [ fiber hybrid composites ] [ NCF ] [ Non-crimp fabric ] [ pultrusion ]
Point of the Proposed Technology
Optimum alignment of expensive carbon fibers for cost saving
Application of non-crimp fabric (NCF) not commonly used in the conventionally draw molding composites for stronger adhesion

Effect(s)
Weight reduction, longer service life, shorter construction period

Conventional Technology
・Fiberglass robing with strong anisotropy are used as a major component.
・Special care has to be taken for adhesion because of their high anisotropy.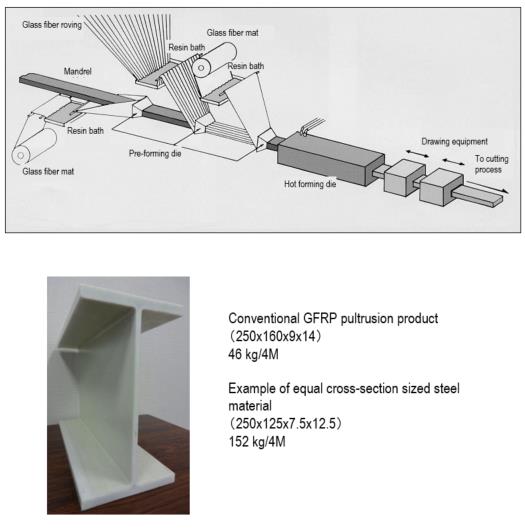 New Technology
・ Carbon fibers are effectively aligned in accordance with structural needs.
・ In view of better adhesion carbon fibers are aligned in the 90 and plus and minus 45 degrees directions.
・ Adhesion to nonferrous metals is allowed.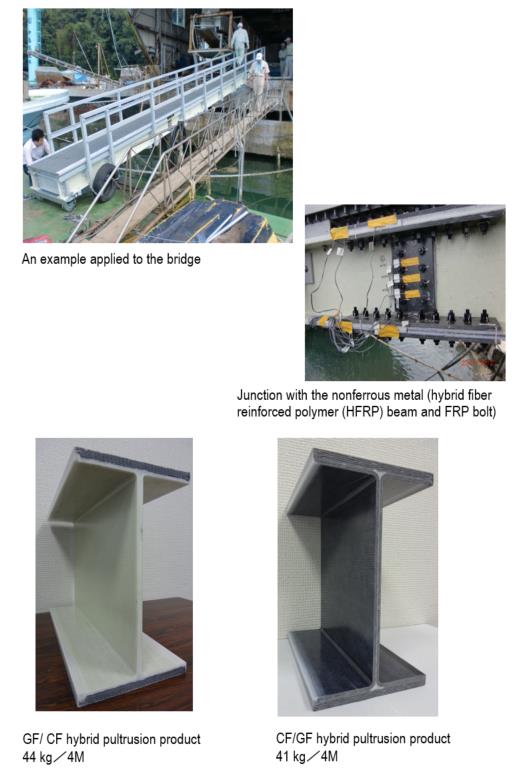 Technology Deployment and Cooperation
Development Stage

Commercialization Completed (already delivered: yes)


Intellectual Property Right

Yes

Joint Researchers (their role)

Hirose Co., Ltd. (Structure design and its construction)
Toray Industries Inc. (Design and supply of carbon fibers)


Example of Application

Bridge and various structural products


Technical Problems

Cannot be used as a building material because of poor fire resistance.


Collaborator needed to Improve

Structural engineering consultants, local government, and general construction companies


Technical WEB page
Inquiries
Personnel / Department

Technical Dept. / Group Leader, Komiya Iwao

Address

5-1, Iwanishi, Nakahara-cho, Toyohashi-shi, Aichi, 441-3106, Japan

Contact

TEL:+81-532-41-1211
FAX:+81-532-41-8583
Inquiry Form
Outline of Company and Organization
Location

5-1, Iwanishi, Nakahara-cho, Toyohashi-shi, Aichi, 441-3106 Japan

Contact

TEL:+81-532-41-1211
FAX:+81-532-41-5078


Capital / No. of Employees

95,000,000 yen / 94 employees

Product Line

Various fiber products, fiber reinforced polymer (FRP) and FRP matrix

Major Customers

The information not to be disclosed.

Overseas Base(s)

None

Certification

ISO9000 and Aichi Quality

Company/Organization WEB page
---