Improvement of anisotropic thermal conductivity and development of new C/C composite with lower porosity (FS320)
Technical Classification:

[ Raw Materials ]

Products:

[ Products / Processed Products ]

Keyword:

[ anisotropy ] [ C/C composite ] [ lower porosity ] [ oil cooling ] [ thermal conductivity ]
Point of the Proposed Technology
・In comparison with conventional C/C composites, anisotropic themal conductivity will improve significantly.
・Lowering porosity enables the use of C/C composite for the heat treatment oil cooling process.

Effect(s)
Anisotropic thermal conductivity (XY plane : Z) 3:1→ 1:1
Porosity: conventional 20% → 5%

Conventional Technology
Example of application for the oil cooling process using a tray for metal heat treatment
・Although it does not show infiltration of cooling oil, it is severely deformed in a high-temperature environment due to being metallic, its manufacturing process is difficult to automate, and its life is short.
・As it is heavy-weight, heating and cooling take time, leading to high energy consumption.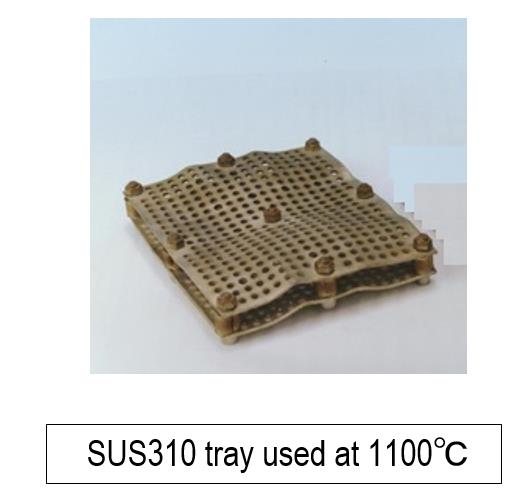 New Technology
・As porosity is low and cooling oil is not penetrated, it can be used for oil cooling process.
・Since it is made of carbon, it has excellent heat resistance capabilities, will not be deformed, and its manufacturing process can be automated.
・As its density is 1.7 g/cm3 which is approximately a quarter of metal, it is light-weight with low energy consumption.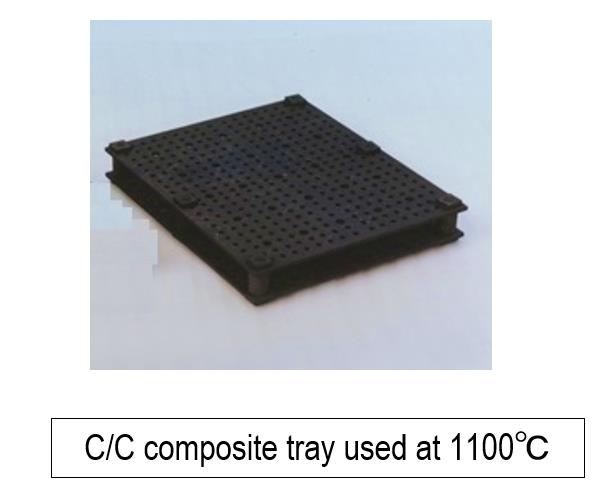 Technology Deployment and Cooperation
Development Stage

Commercialization Completed (already delivered: yes)


Intellectual Property Right

Yes

Joint Researchers (their role)

None


Example of Application

・Jigs for the heat treatment process such as tools and gears (oil cooling process in particular)
・ C/C composite heater (substitute for graphite heater)


Technical Problems

In recent years, heat treatment temperature for metal is becoming increasingly high, and the reaction between heat treated object and c/c has become a problem.
Once surface treatment technique to suppress this reaction is established, further application will be expected.


Collaborator needed to Improve

・ Companies which can test at the oil cooling process.
・ Research institutes having technique and expertise to suppress reaction between carbon and metal, etc.


Technical WEB page
Inquiries
Personnel / Department

Sales & Marketing Dep. / Fellow, Hirotaka Nagao

Address

1-4-11, Funatsu, Sabae, Fukui, 916-0054, Japan

Contact

TEL:+81-778-42-5629
FAX:+81-778-51-2220
Inquiry Form
Outline of Company and Organization
Location

1-4-11, Funatsu, Sabae, Fukui, 916-0054, Japan

Contact

TEL:+81-778-42-5624
FAX:+81-778-42-5625


Capital / No. of Employees

100,000,000 yen / 65 employees

Product Line

C/C composite

Major Customers

Shin-Etsu Chemical Co., Ltd., Daido Steel Co., Ltd. etc.

Overseas Base(s)

Across USA

Certification

ISO 9001

Company/Organization WEB page
---