Development of "Biomass nano-fiber" composites using water jet technology
Technical Classification:

[ Raw Materials ] [ Product Design ]

Products:

[ Equipment / Facilities ]

Keyword:

[ BiNFi-s ] [ Biomass ] [ Filler ] [ Mixing ] [ Nano cellulose ] [ Nano-fiber ] [ Water jet ]
Point of the Proposed Technology
・It is possible to develop the composite materials of light weight and low load for environment by mixing Biomass Nano-fiber instead of onventional carbon and glass fiber.

Effect(s)
・Environmental load:dependence on the mixed quantity
・Tensile strength:mixed into PVA, increase more than twofold.

Conventional Technology
Example of application

・It is difficult to recycle and dispose CFRP and GFRP, so that environment burden is high, and replacement of the carbon and glass fiber are required .

New Technology
・It enables to mix with generic hydrophilic resin and it can maintain smoothness. 
・The tensile strength can be improved without losing transparency by adding to PVA (polyvinyl alcohol).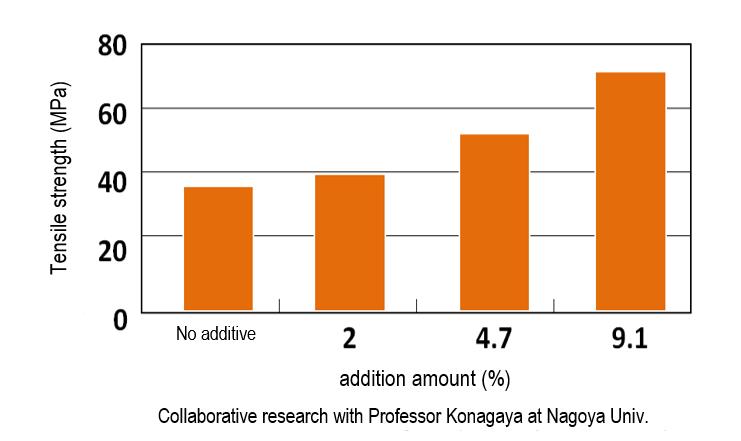 Technology Deployment and Cooperation
Development Stage

Commercialization Completed (already delivered: yes)


Intellectual Property Right

Yes

Joint Researchers (their role)

Example of Application

・ Reinforcing materials (water-soluble resin, natural rubber, paper, etc.)
・ Dispersion stabilizers (paints, abrasives, coatings, etc.)
・ Emulsion stabilizers (adhesives, cosmetics, foods, etc.)
・ Water retention agent (cosmetics, food, soil modification, etc.)
・ Deodorant and antibacterial agent (toiletries, clothing, building materials, etc.)
・ CNF 100% molded body (metal, resin, ceramic substitute, etc.)


Technical Problems

・It is difficult to mix with hydrophobic resin.
・Please consider applying our "BiNFi-s" to various materials.


Collaborator needed to Improve

・Companies with polymer mixing technology.
・Companies with technology for cellulose chemical modification.
・Companies with introducing our technology into various materials.


Technical WEB page
Inquiries
Personnel / Department

Project Section1, New Development Department, Corporate Planning Division / Chief, Kota Ogura

Address

2410, Hongo, Uozu-shi, Toyama, 937-8511, Japan

Contact

TEL:+81-765-24-5118
Inquiry Form
Outline of Company and Organization
Location

2410 Hongo, Uozu-shi, Toyama, 937-8511 Japan

Contact

TEL:+81-765-24-5111
FAX:+81-765-24-5051


Capital / No. of Employees

2,324,670,000 yen / 1630 employees(Whole group)

Product Line

Ultra-high pressure water cutting device, wet/dry atomizing unit, drilling unit, etc.

Major Customers

Overseas Base(s)

USA, Mexico, France, Germany, China, Thailand, Singapore, Indonesia, etc.

Certification

Company/Organization WEB page
---