New Fiber Reinforced LCP Compounds for Injection Molding
Technical Classification:

Products:

[ Products / Processed Products ]

Keyword:

[ Carbon fibers ] [ glass fibers ] [ injection molding ] [ LCP ] [ liquid crystal polymers ] [ pellets ]
Point of the Proposed Technology
We have succeeded in developing two types of pellets for melt molding with mechanical properties comparable to that of metal materials; one with high stiffness, and the other with high impact strength by significantly improving the conventional short fiber-reinforced LCP compounding technology and injection molding technology in order to maximize the performance of liquid crystal polymers (LCP) and reinforcement fibers. The two types of pellets are expected to not only meet light-weight needs of automobile components, etc. but also contribute to creation of new added values.

Effect(s)
・ Realization of thin walls and light weight in members
・ Reduction of processing time and processing costs
・ Realization of reduction of the number of components and complicated shapes

Conventional Technology
[Conventional long fiber compounds]
・No significant improvement of mechanical properties is observed by the introduction of long fibers in terms of strength, elastic modulus, and impact strength.
・ It is difficult to achieve physical properties equivalent to those of press, formed products (BMC, SMC, etc.) and metal materials.

New Technology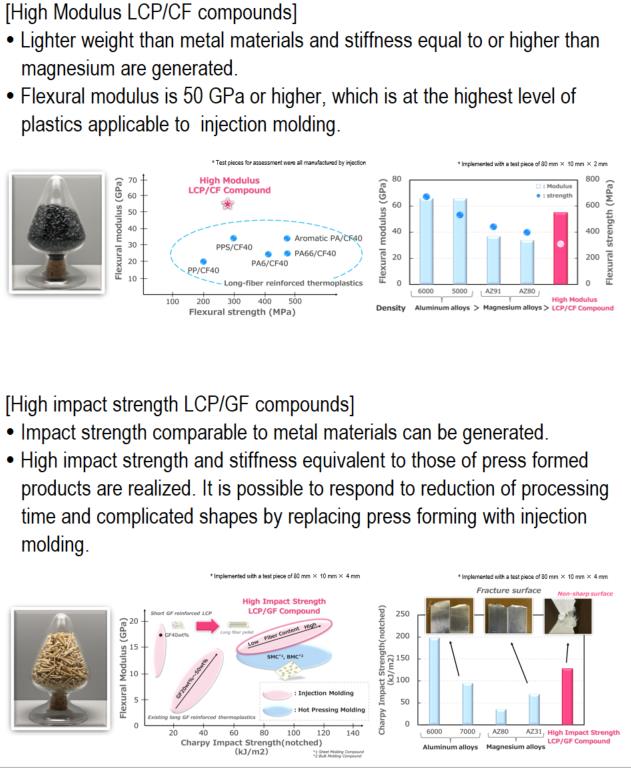 Technology Deployment and Cooperation
Development Stage

Prototyping / experimental Stage (to be completed in 0/0; progress: 0%)


Joint Researchers (their role)

Example of Application

Automobile components, sports goods, industrial use components


Technical Problems

Technological challenges: material costs, quality stabilization, establishment of the mass productiontechnology


Collaborator needed to Improve

Specific partners for development of usage (related to automobiles, sports goods, industrial equipment, etc.)


Technical WEB page
Inquiries
Personnel / Department

Energy &Functional Materials Research Laboratory / Takayuki Sugiyama

Address

6 Kitahara, Tsukuba-shi, Ibaraki, 300-3294 Japan

Contact

TEL:+81-29-864-4177
FAX:+81-29-864-4747
Inquiry Form
Outline of Company and Organization
Location

Tokyo Sumitomo Twin Building (East), 27-1 Shinkawa 2-chome, Chuo-ku, Tokyo 104-8260 Japan 

Capital / No. of Employees

89,699,000,000 yen / 6,096 employees (non-consolidated)

Product Line

Petrochemical sector, energy/functional materials sector, information, electronics, and chemicals sectors, health/agriculture-related business sectors, pharmaceutical sector, and others

Major Customers

Many

Overseas Base(s)

Asia, Europe, North America, Latin America, Africa, Oceania

Certification

ISO 9001, ISO 14001

Company/Organization WEB page
---